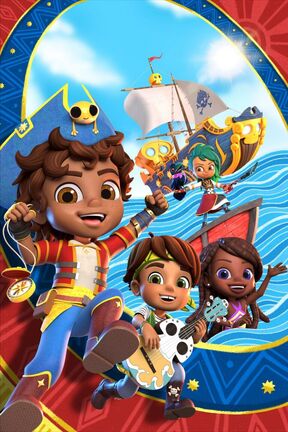 Santiago of the Seas (Formerly known as The Swashbuckling Adventures of Capitán Calavera) is an interactive-action-adventure CGI animated television series created by Niki López, Leslie Valdes and Valerie Walsh Valdes. It will be airing on Nickelodeon on October 9, 2020.[1]
Santiago's (Kevin Chacon) steadfast and loyal crew consists of: Tomás (Justice Quiroz), his clumsy energetic cousin whose magical guitar can be used to harness the wind; and Lorelai (Alyssa Cheatham), a knowledgeable mermaid who can speak to sea creatures and transform into a young human girl. Together, Santi and his best mates sail the seas on the majestic ship El Bravo, using their smarts, pirate skills and moral compasses to guard their home of Isla Encanto from villains like the nefarious pirate Bonnie Bones (Kyndra Sanchez) and her Palm Crow sidekick Sir Butterscotch (John Leguizamo).
References
Edit
Community content is available under
CC-BY-SA
unless otherwise noted.